It's said that the London Underground is one of the least friendly places in the world, where people will avoid making eye contact with each other, let alone speak. I don't find this to be as true as the stereotype suggests (on the Central line, I had a hilarious exchange with a girl about American politics, late at night on November 4, 2008). However, as unfriendly a place as the tube can be, it pales in comparison to the Internet.
What I wrote here, plus the comments, speak of how unnecessary the online culture of gross impoliteness really is. Often, however, it is far easier to adhere to a better way of behaving if you have something to fall back on: the behavioural equivalent of the mnemonic device. This won't work for everyone. Perhaps it won't work for anyone besides me, but I saw something yesterday on Google Maps.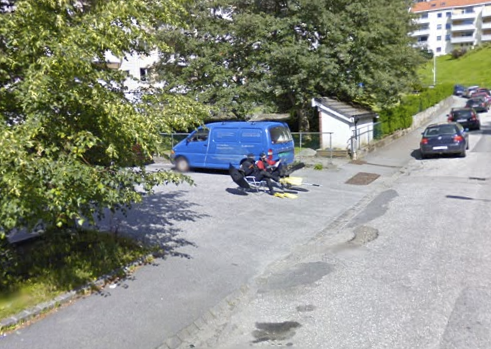 We're in Norway, and .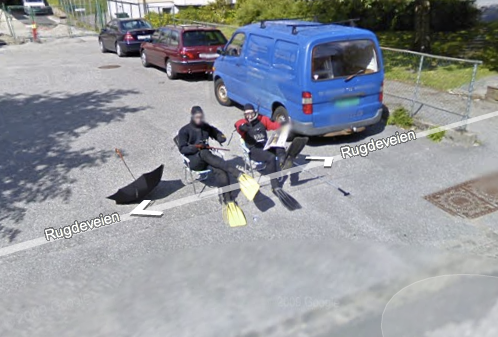 Just reading the paper, as you do, .
So when you see the Google StreetView car, what other option do you have?
.
You chase him up the hill.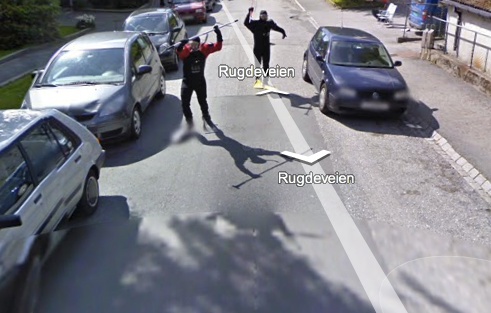 In your wetsuit, with your rake, until you can't run any further in your flippers.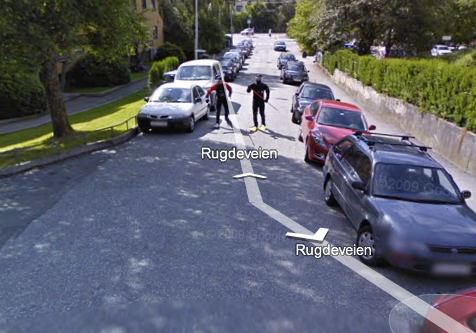 I don't know why these guys chose to chase the Google car. Perhaps this is a protest against Google's indexation of their neighbourhood. Perhaps they wanted to be on StreetView in the same way that people want to bob about behind field reporters' heads on TV (although I don't believe Google exactly publicises its drive-by schedule for fear of this sort of activity). Perhaps they were hanging out in their driveway in Norway in their diving suits, reading the paper, when they fulfilled my friend Danny Dover's dream and were allowed the opportunity to chase the StreetView car.
As a point, . Danny, however, was not as lucky as the divers. He never saw the car.
The reason for the chase doesn't matter to me. My job aside, this is what I like about the Internet. The random pieces of win. The parts of the Internet where you find true humour, no matter what its original purpose. It is reading an elaborate story without knowing that you're going to be Bel Aired. It's . It is not publicly calling people names, starting blogs for the purpose of handing out curse-laden insults or posting shortened versions to Twitter.
Although the horror of our collective behaviour on the Internet has slowly been occurring to me for quite some time, this is my favourite metaphor for Internet as serious win. Two blokes running up a road in Norway in wetsuits. Think of this next time it seems like a good idea to write something horrible. Have a grin; do something else.
And the Underground? London in general? I will never ride the tube or walk the streets of this city in the same way again after watching this programme from Channel 4 about the incredible bravery Londoners extended to strangers on the Circle line on 7/7/2005. Now I sit on the train and think about what sort of person is probably sitting opposite me: a stranger who doesn't want to make eye-contact, but someone who for the grace of God would be a hero.
It's hard to walk around with a bad attitude when I think of strangers like that. It's hard to be deliberately nasty online when I'm thinking about the little corner of the Internet where two blokes run up the road in scuba diving gear. I'd rather exist in that corner.