We can become a bit smug when it comes to the BBC. We generally view its level of journalistic integrity to be a bit above that of its cable TV counterparts. Last night, however, those of us involved in SEO were surprised to note that even the Beeb's esteemed reporters aren't immune to poor research. As is always the case when you notice something untrue reported as fact, you wonder how many facts you hear on a daily (hourly?) basis that are woefully under-researched.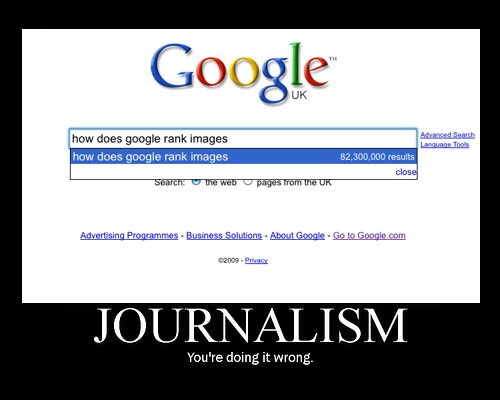 The BBC news report I was watching was about the Michelle Obama / Google Images incident. A crudely Photoshopped, offensive image of the First Lady was ranking atop Google images for her name. In an explanation of how such a thing could occur, Rory Cellan-Jones, the BBC's Technology Correspondent said:
Google doesn't decide what comes top when you search for a word or an image. That's determined by a complex formula. But it basically boils down to the fact that the more people click on a certain site, the higher up the list it comes.
An audio version of this part of the report is available . For a short time, British readers can view the entire segment on iPlayer (between minutes 14:45 and 17:10). At the end of the piece, Cellan-Jones says again:
For now, the offensive picture of Michelle Obama has disappeared from Google's search results, but if web users find it elsewhere and click on it, then it will rise up the search engines list once again.
Incidentally, my good friend Ciarán Norris was providing an accurate description of how it happened on Radio 5 at the same time (1hr, 26min in).
And it was Ciarán who figured out why the Beeb most likely said such a thing. A report on their news website stated that "the search engine's results get to the top based on popularity, not because of any ranking system by people", a statement apparently given to them by David Vise. There is nothing particularly untrue about that, but the BBC have misinterpreted "popularity", taking it to mean clicks, not links. No one bothered to check out Vise's statement or make sure they'd understood him properly. Thus, it was reported to the nation that it was users clicking on the offensive picture of Michelle Obama that pushed the picture to the top of Google's rankings.
Of course, there may be some ounce of truth to the clicks idea, if you believe that Google closely monitors click-through and bounce rates. However, not once in the piece were links–the currency of SEO–mentioned. Taking into account that click-through and bounce rates are highly likely to be very small ranking factors, there is no way even a small amount of research would have backed up the statements made in the report.
What we've learned, we already knew: journalists need stories to go to press nowish and don't have much time to put together stories to feed the public their daily news. The BBC found a quote from an expert; it was just a little misunderstood. However, recognising such mistakes certainly makes me wonder what else is reported to us as simple fact that is actually quite badly misguided.